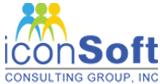 732 213 5618

info@iconsoftgroup.com

Testimonials
Other companies just can't hold a candle to the superior web development and design services available from the crew at IconSoft Group. They provide solutions with one of the highest level of quality that I have seen in the industry. They commit to and deliver projects on deadline.

They understand the business needs of the clients and often offer elegant solutions to difficult interface and programming problems. They are available when needed, always add value and a true pleasure to work with
Thomas V.
Vice President
Global Wealth Management
Big Investment Bank

We are especially satisfied with IconSoft's ability to find qualified talent that exactly fits our project needs.... they are very technical at their approach and fully screen and qualify candidates before presenting them for assignments.   
John R.
Principal Partner
BINEC Computers
About Us
Voice of Our Customers

They provide solutions with one of the highest level of quality that I have seen in the industry. They understand the business needs of the clients and often offer elegant solutions to difficult interface and programming problems.

Thomas V. Investment Bank