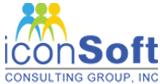 732 213 5618

info@iconsoftgroup.com

IT Staffing
Iconsoft Consulting Group, Inc provides complete supplementary staffing services and permanent placement of software development engineers, web developers and network operating engineers. Our experienced senior consultants, systems analyst, and programmers ensure successful, on-time delivery of any project, large or small. We specialize in staffing the entire life cycle of IT projects. We welcome resumes from top candidates interested in working in a highly dynamic and energetic environment. Commitment to customer satisfaction is an absolute requirement. We offer comprehensive benefits, attractive compensation plans and an enabling culture. We are an equal opportunity employer.

Iconsoft has grown strategically over the past years, equipping each individual with the proper skill set, approach, and business logic fundamentals necessary to make our clients successful. To retain and motivate highly skilled consultants, Iconsoft has a unique career growth plan for our developers and software engineers. The plan combines professional development opportunities with competitive compensation.
We provide following IT Staffing Solutions
Permanent Staffing
Contracting to Hire Staffing
Pure Contract Staffing
Overseas Staffing
The steps ensured by Iconsoft for selection of best matched Candidates include
Screening Interviews
Skills Inventory and application supplement
Technical Interview
Personal/Professional Reference Checks
Right to Work Confirmation
Background Check
KEMPI Recruitment Process Service
Application Development
Voice of Our Customers

We are especially satisfied with IconSoft's ability to find qualified talent that exactly fits our project needs.... they are very technical at their approach and fully screen and qualify candidates before presenting them for assignments.

KEMPI is a software