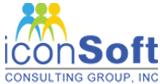 732 213 5618

info@iconsoftgroup.com
Iconsoft Consulting Group, Inc is a Software Development and IT Consulting Company which delivers business driven solutions to Fortune 500, financial institutions, and mid-market segment firms. These solutions include application development, integration, packaged software implementation, mobile application development, staff augmentation and outsourcing.
Founded in 1997, Iconsoft Consulting Group, Inc works with its clients on site, off site, and offshorein any combination that meets its clients needs. Our Business Development Managers, Technical Resources Managers, and Consultants work hand-in-hand with clients to improve business performance, providing an edge to any business, and create competitive advantage for our clients in the forever changing today's market.
We carefully and cost effectively develop customized software solutions tailored to your business requirements. We incorporate best-of-breed tools and techniques in the software development life cycle to continuously enhance productivity an quality.

Using proven methods and best practices, Iconsoft develops mobile applications for your business quickly and reliably.
Iconsoft has state-of-art mobile application development center to design & develop most creative and innovative mobile applications.